Track pasture activities across your ranch
The Pasture Management feature in CattleMax is very powerful and can come in handy during hay season, when assigning tasks, or even during everyday activities on your ranch. The pasture feature allows you to store valuable and pertinent pasture information on the same platform as the rest of your ranch records.
"Nearly everything you want to accomplish in CattleMax can be performed from within a pasture. From the pasture you can add health treatments, start/end breedings, add preg checks, add notes to all animals or specific animals, and add measurements just to name a few. The new Hay Production feature within each pasture allows you to keep track of hay for each individual pasture as well. The Pasture page is probably one of my most-used and functional pages in CattleMax."
Mapping pastures in CattleMax shows you the actual pasture on a map. From there you can perform many actions like...
Mark water tanks, trees, or anything else
You can pinpoint different items in your pasture like ponds, trees, water lines, etc.
Dropping a pin on a mapped pasture will allow you to assign a task to another user based on that location. This can be used to mark a break in the fence, a downed cow, etc.
After you create and map a new pasture, you can change the color that the pasture shows up on the map.
Keep up with all of your pasture information
Record maintenance, animal movements, hay production, and general notes - all from the Pasture Profile screen.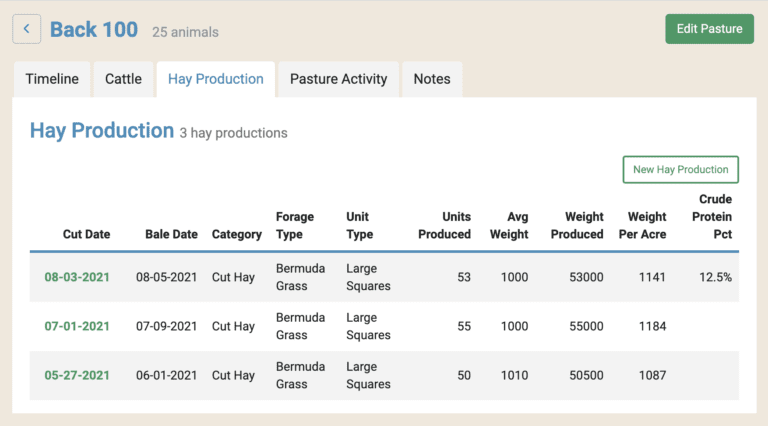 Track pasture maintenance
Record aeration, fertilization, brush clearing, and more.
When hay season comes around, having production data to reflect on can help you get a better idea of what is to come.
Manage animals by pasture
Each pasture shows an up-to-date animal inventory. When it comes time to rotate pastures, animals can easily be moved from one pasture to the next.
Bull Turn In and Bull Pull
Inside each pasture, you have the ability to create notes to include any additional information you would like to store, including photos and files.
When breeding season comes along, turning a bull into a pasture automatically updates the records of each cow in the pasture to exposure. Removing the bull is just as simple!
Keep exploring ranch record features
CattleMax is full of features to make your ranch run smoother. Keep exploring features below!
Track and schedule equipment manintenance.
Track income, expenses, and easily organize records.
See activities and events for the ranch.
Track and record rainfall and view trends by month and year.