How to Share CattleMax cattle records with your customers
New Feature – CattleMax Cattle Records Sharing process
For years, CattleMax customers have been able to share data with their customers conveniently and sometimes even receive premiums on their cattle by doing so. Often this was done by printing reports or exporting data to spreadsheets.
As more producers are choosing CattleMax as their all-in-one solution for cattle records, more CattleMax users are buying from other CattleMax users. Today we are excited to announce the new feature for you to share CattleMax records with your customers.
While this feature may seem simple on the surface, it is important that the producer sharing cattle records can control exactly what is shared – and not shared. Obviously, any financial information from the sharing ranch, including purchase price and ownership information, is always excluded. Beyond that, different producers will choose the level of detailed information to share, as well as what information is included for sires & dams, offspring, and 3-generation pedigrees (Registered only).
To access the Export Data screen, go to the "Cattle" screen and click "Export Data."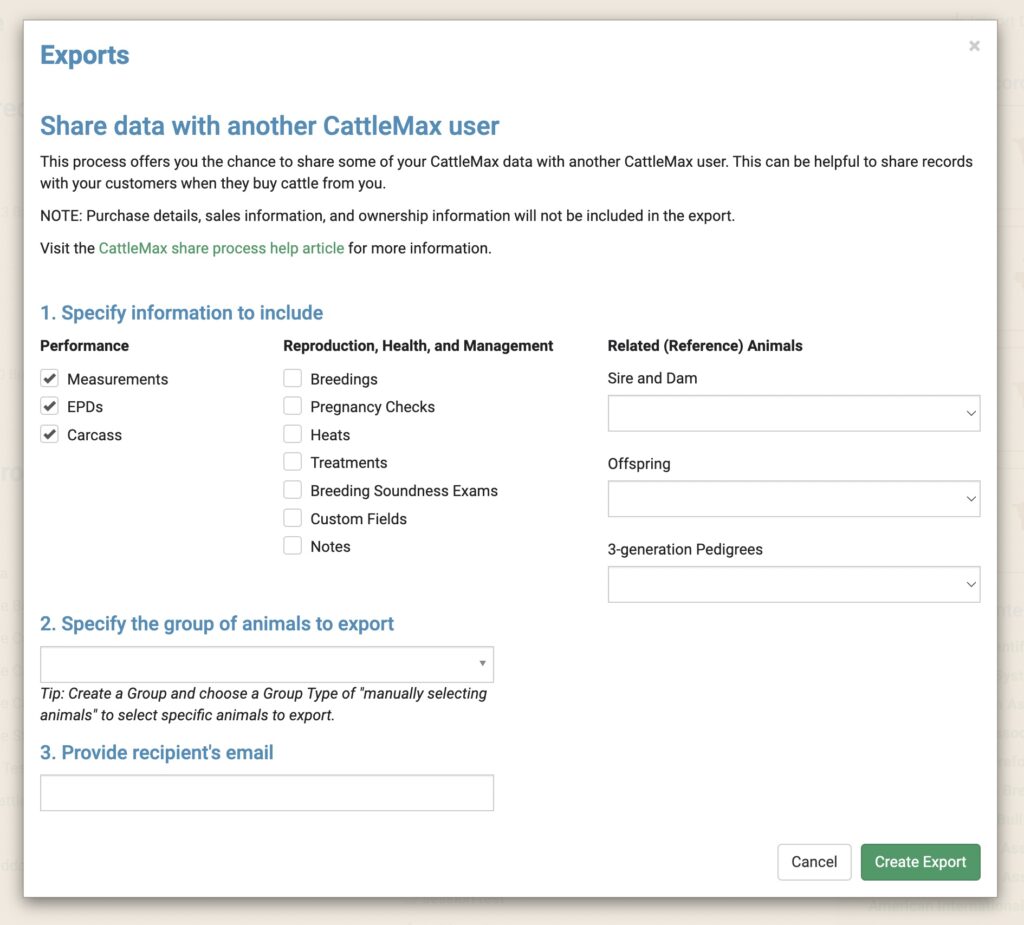 Once you click "Create Export," your recipient will receive an email with a link to import the shared records into their CattleMax account. Also, they can sign up for a new account if they do not have a CattleMax account.
For more information, check out the Help Article on the Cattle Record Sharing process
We hope you find this new feature helpful for your customers. As always, we welcome feedback and suggestions.
Rancher Designed, Rancher Developed, Rancher Approved
When you contact us, you'll be talking to a fellow cattle producer who has made CattleMax record keeping and cattle management software a key part of their herd management. Everyone on the CattleMax team knows cattle and CattleMax – it's a requirement for working here.